Discover more from So What? Do-Over!
Startup stoicism, business strategy analysis and life stories
Full disclosure, English is not my first language, and you may occasionally experience my thick Brazilian accent and a fair share of grammar errors. I hope that it does not discourage you from exploring the main idea of this post.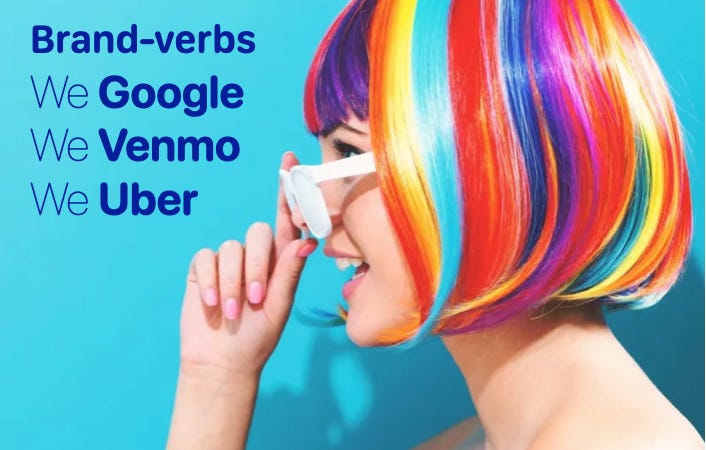 I don't hear "let me Yahoo that", or "I will Zelle you later", or "I will Lyft to my doctor's appointment".
We Google, we Venmo, we Uber.
But how did these brands reach verb status?
It starts with great insight, combined with a superb strategy and timing, mixed with speedy execution, a lot of hard work, and yes, a bit of luck.
All that for sure, but zooming in on this generic formula, one of the most crucial steps in becoming part of our busy pop culture lexicon, is to delight Millennials and Gen Zs by providing a much better product/service experience.
Why Millennials and Gen Zs? Because they are the center of today's pop culture. They share, engage, spread virally. They are the bees pollinating networks.
What is better? Better is improved perceived value by the customers. Better can only happen in a well-defined job, and it must be of at least an order-of-magnitude - the 10x factor. Better is not what you think is better; better is what your customers perceive as value-adding. If you don't have an in-depth knowledge of what matters to your customers, chances are you will be wasting precious time and resources improving what does not matter.
Google's well-defined job is content discovery, Venmo's is "money transfer from my digital wallet to yours", and Uber's is "mobility from point A to point B".
Yahoo had the chance to become the verb Google became. Still, it failed to understand what mattered to its users: better content discovery experience. Its portal approach drastically handicapped its users' ability to discover useful content.
Zelle is great at money transfer but fails at being a digital wallet holding funds, the critical job that makes Venmo a better fit for many Millennial and Gen Z users.
Lyft is excellent, but with no real differentiation, it feels like Uber's copycat. Uber succeeded in being the first to be perceived as providing a 10x better mobility experience.
Reaching brand-verb status is ever more valuable in a world where taking action is one click away on a tiny screen.